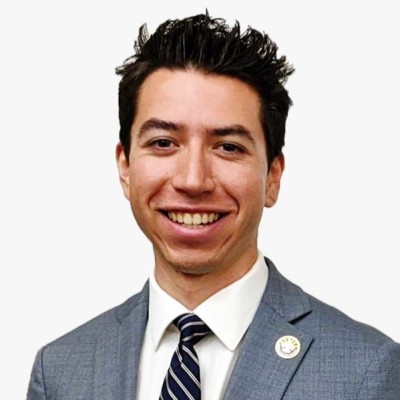 Vianney Careaga joins Greater Phoenix Leadership (GPL) as the Director of Public Policy effective immediately. In this role, Careaga will staff the 30-member Public Policy Committee led by business leaders Sharon Harper and Adam Goodman, CEO's of The Plaza Companies and Goodmans Interior Structures, respectively. He will prepare and represent the annual policy agenda of Greater Phoenix Leadership at the Arizona Legislature and engage on local, regional and federal policy issues impacting the business community.
Careaga will utilize his experience coordinating the Arizona Human Trafficking Council and Governor's Youth Commission for Governor Doug Ducey as well as his two-year tenure as a member of the Arizona Board of Regents. As Student Regent, Careaga served on the Executive Committee as Assistant Treasurer and on the Audit, Health Affairs, Academic and Student Affairs, and Business and Finance Committees. Careaga earned a bachelor's degree in political science from The University of Arizona and a master's degree in legal studies from the Sandra Day O'Connor College of Law at Arizona State University.
"I am excited to start this next chapter of my career with GPL. For nearly five decades, GPL has been leading the way on improving the overall quality of life, not only in the region but also, throughout the state. I am eager to contribute my talents to these efforts and am thankful to the GPL Board and to Neil for this opportunity."
In addition to overseeing the public policy process and activities of the organization, Careaga will plan and execute monthly meetings of the 150-member CEO organization and align the content and work of GPL's three standing committees: Education, Community Infrastructure and Social Impact and their related task forces.
"Vianney's experience and background has uniquely prepared him for this critical role with GPL. We are anxious for him to help us strengthen our public policy activities and further connect the membership across the important advocacy and electoral work of the organization," said Neil Giuliano, President and CEO of Greater Phoenix Leadership.
###
Greater Phoenix Leadership is an organization of leading CEOs aligning leadership and resources at the intersection of the business, education, philanthropy and public policy sectors to improve economic vitality and quality of life. Founded in 1974 as the Phoenix 40, the organization today has over 150 members leading 350,000-plus employees in the region.